HERO (UNIVERSAL-CUSTOM)
รายละเอียดเพิ่มเติม
บทวิจารณ์ (0)
รายละเอียดเพิ่มเติม
Hero is relentless, fierce and unapologetic – a renunciation of rules, preconceptions and everything that's expected from it. It represents a tour de force of Empire's expertise and craftsmanship, elevating musicality presentation to a level non-existent in its tier. With DNA sourced directly from Legend X and Zeus XIV, Hero reveres our past to emulate flagship levels of performance without the flagship admission.
The heart of Hero is a proprietary quad hybrid configuration comprised of proprietary triple balanced armatures and a next generation W9+ subwoofer. This staunch combination generates legendary bass response while delivering lush, intimate vocals and supreme detail retrieval via a 4-ways synX crossover network backed by ARC resonance mitigation technology.
Every element of Hero is a combination of reminiscence to our history and it embodies our relentless quest to push the limits of possibility. Its sophisticated design, proprietary technology and extraordinary audio reproduction capabilities make it a class-dominating masterpiece.
Technical Specifications
4 Proprietary Drivers, Hybrid Design
1 Next Generation W9+ Subwoofer – Sub-Bass/Bass
3 Proprietary Balanced Armature Drivers – 1 Mid, 1 Mid-High, 1 High
4-Way synX Crossover Network
A.R.C. Resonance Mitigation Technology
Impedance: 17.6 Ohms @ 1kHz
Frequency Response: 5 Hz – 40kHz
Sensitivity: 105dB @ 1kHz, 1mW
Handcrafted Alpha-IV 26AWG UPOCC Copper Litz Cable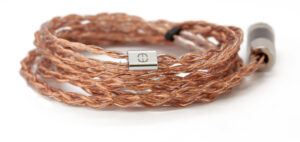 At Empire Ears we believe that an extraordinary IEM requires an extraordinary cable. We're proud to introduce Alpha-IV (A4); a premium handcrafted 4 core cable comprised of a proprietary 26AWG UPOCC Litz Copper with multi-size stranding. The advantage of multi-sized stranded design within the same encapsulations enables A4 to achieve distinct highs and details due to the signal transmission speed in thinner cable strands, while the thicker size cable strands deliver smoother bass and mids.
Compare