BRAVADO MKII (UNIVERSAL)
รายละเอียดเพิ่มเติม
บทวิจารณ์ (0)
รายละเอียดเพิ่มเติม
The Bravado MKII is the next generation of the Bravado and is the sequel to one of our best selling IEMs. At its core is a substantially upgraded 4 driver tribrid configuration designed to exude the same u-shaped fighting spirit as its predecessor while addressing the growing need for even more dynamic range, detail retrieval and soundstage. All of this is made possible with the most advanced IEM technology currently available: a next generation W9+ subwoofer, a proprietary balanced armature driver and dual electrostatics divided 6-ways via a reengineered synX crossover network backed by EIVEC and ARC resonance mitigation technology.
The Bravado MKII embodies our relentless quest to push the limits of design and performance to a new extreme. With bolder styling, more technology and performance than ever before the Bravado MKII takes its class-obliterating heritage to unprecedented heights.
Technical Specifications
4 Proprietary Drivers, Tribrid Design
1 Next Generation W9+ Subwoofer – Sub-Bass/Bass
1 Proprietary Balanced Armature Driver – Mid
2 Premium Electrostatic Drivers – 1 High, 1 Super-High
6-Way synX Crossover Network
EIVEC – Empire Intelligent Variable Electrostatic Control Technology
A.R.C. Resonance Mitigation Technology
Impedance: 4 Ohms @ 1kHz
Frequency Response: 5 Hz – 100kHz
Sensitivity: 99dB @ 1kHz, 1mW
Bespoke Alpha IV UPOCC Copper Litz Cable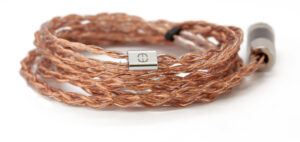 At Empire Ears we believe that an extraordinary IEM requires an extraordinary cable. We're proud to introduce Alpha-IV (A4); a premium handcrafted 4 core cable comprised of a proprietary 26AWG UPOCC Litz Copper with multi-size stranding. The advantage of multi-sized stranded design within the same encapsulations enables A4 to achieve distinct highs and details due to the signal transmission speed in thinner cable strands, while the thicker size cable strands deliver smoother bass and mids.
Compare